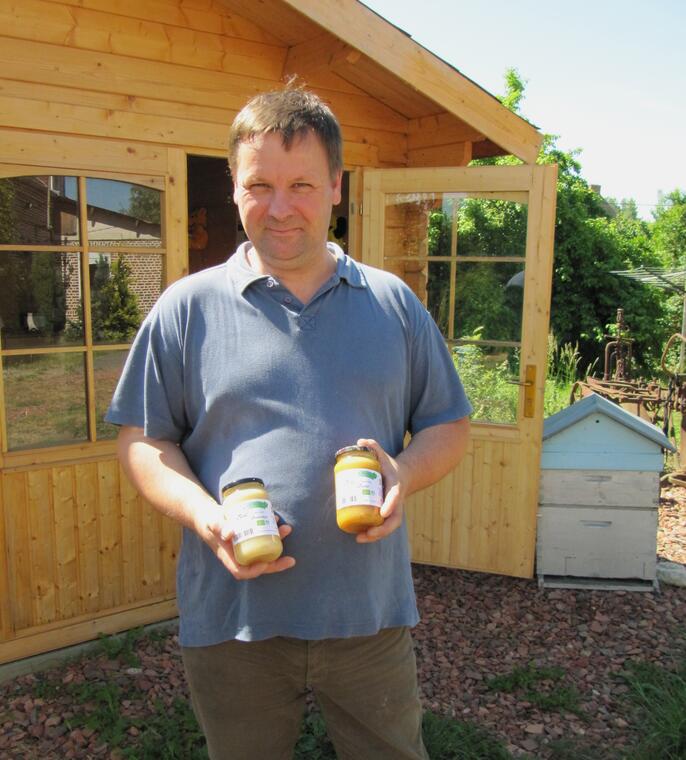 Aux Délices des Abeilles
,
Honey,
Bread, various products,
Sweets/chocolate/confectionery,
Producer,
Producer-farmer
in Fressain
Didier Auvray changed his life more than ten years ago, by embarking on beekeeping. He now lives among his bees. Different varieties of honey, pollen, royal jelly and even homemade nougat: do not hesitate to cross the doors of his farm to discover his trade. He will welcome you with pleasure to reveal all his sweets.
Services

Direct sale
Sales on site
Wednesday

8:00 AM - 12:00 PM

2:00 PM - 7:00 PM

Friday

8:00 AM - 12:00 PM

2:00 PM - 7:00 PM

Saturday

8:00 AM - 12:00 PM

2:00 PM - 7:00 PM
Wednesday

8:00 AM - 12:00 PM

2:00 PM - 7:00 PM

Friday

8:00 AM - 12:00 PM

2:00 PM - 7:00 PM

Saturday

8:00 AM - 12:00 PM

2:00 PM - 7:00 PM